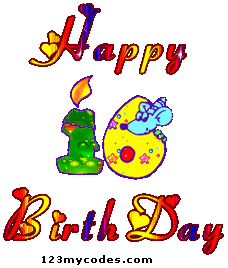 HAPPY 16TH BIRTHDAY TYLER
On July 16, 1991 ONE of the wonderful miracles happened in my life. At 6:36 p.m, on a Tuesday, Tyler Trent Landes was born. He weighed 8 lbs and .6 ozs. I was scared to death. I did not know what to do. I had been in labor for 18 hours and was exhausted. But once I saw that beautiful smile, all of that was gone. Can it already be 16 years later? Oh my, where is time going. Happy 16th Birthday Tyler. 16 years with you, how exciting. We have grown together from babyhood, toddlerhood, elementary school, middle school and now the last 2 years of high school. You have grown up to be such a beautiful person inside and out. You are very caring of others before yourself. You are my rock when things get tough with the other kids. I can not believe that you are sixteen today. Instead of me doing things for you, you do things for me. You drive me around, you cook dinner, you clean, you babysit. I could not ask for more. All of this reminising is making me cry. I don't want my baby boy to grow up. As I see you grow and mature, I know that once you enter that great big world, that you will be just fine. We all love you very much. Tyler celebrated his birthday this weekend. He did not want anything big. He is that way, the simpler, the better. So we just had family. Of couse, what do you get a teenage, MONEY. He got quiet a bit of it. We got his a pair of Oakley sunglasses. He will be driving in November, so we felt like he may need some. We know that he will take care of them. We are also taking him to dinner tonight to a very nice and expensive rest. (his brothers get to babysit) There are no children allowed at this rest. Oh I hate that (not). Anyway, I will post pictures of all of his celebrations after dinner.
HAPPY BIRTHDAY TYLER
WE LOVE YOU!!!!!!!!!!!!!!!!!!!!!!!!!!!!